The "M" package
My client expects a customised standard dataset.
I want to use an AS 2 interface.
I would like to include my print documents with Merketing information for my customers.
I would like to benefit from 7.5% transaction discount and 6% postage discount on each document.
from 800 € one-off set-up fee
Individual adaptations and promotion add-ons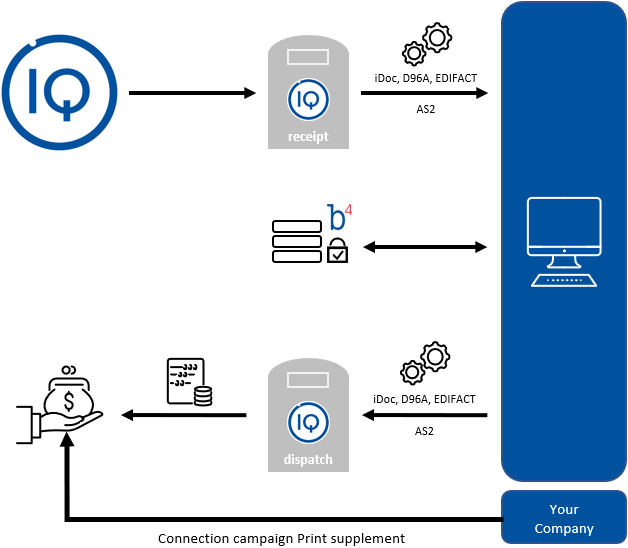 Contents of package "M
Additional advantages for you in document dispatch
The standard interfaces and data records in the outbox are adapted to your requirements. This is charged once depending on the effort (e.g. 5 data fields - 1,250 €).
AS2 is also possible.
You can attach marketing information to your printed output documents as required. Everything is printed, enveloped and sent postage-optimised via our print service provider. This service allows you to reach your customers at short notice and to place current offers quickly.
Additional advantages for your document inbox
The standard interface or the data records in your inbox are adapted according to your requirements. This means that the TRAFFIQX® network docks perfectly with your IT infrastructure.AS2 is also possible.
Actively and personally convert your customers to electronic receipt
Together we will design an individual campaign with which you can offer your customers digital document exchange. In this way, you can increase the proportion of your electronic recipients or senders in a targeted manner and without any effort on your part, and save money immediately.
Our packages at a glance
Features
Free
Entry
S
M
L
XL
Minimum turnover per month (term 36 months)
0
50
250
500
1.000
2.000
Transaction / postage discount
5%/4%
7,5%/6%
10%/8%
12,5%/10%
corresponds to approx. documents per month
100 piece
500 piece
1.000 piece
2.000 piece
4.000 piece
Personal support during set-up / integration incl.
2 hrs.
4 hrs.
8 hrs.
16 hrs.
Receive securely from the network
personal network access
Sending standard formats (XInvoice, ZUGFeRD, etc.)
Optimised mailing
Connection to DATEV Unternehmen Online
sFTP interface
Document Management (PEP)
Invitation campaign by e-mail (standard)
Data conversion to e.g. iDoc, EDIFACT, D96a
Interfaces such as API, OFTP, X400
Connection of further digitisation providers (roaming)
Archiving service
Invitation campaign by e-mail (individual)
Invitation campaign via print insert
Individually adapted standard data sets or interfaces
(one-off costs according to expenditure)
Data interface AS2
Promotion service (print supplement)
Invitation campaign personal
Optimisation of incoming documents
(Temlpates, OCR or Capturing etc.)
Data conversion into your individual desired format
(one-off costs according to expenditure)
Collection service from external online accounts (Fetchdocs)
Invoice entry screen for suppliers (Low Entry Account)
Master account for processing several clients
(e.g. central service centre)
Services for your customers
(archiving, assumption of costs for services)
Comprehensive support for your digitisation process
Do you still have questions?
You have not found what you are looking for or you still have questions?
Then please feel free to contact us at: