b4value.net GmbH
Who we are and what we do!
About us
A medium-sized company from the heart of the Palatinate!
b4 was founded in 2004 at the German Research Centre for Artificial Intelligence (DFKI) in Kaiserslautern. Our ambition was no less than to make technology and business processes accessible to companies, which until then had been the sole preserve of large companies and corporations. In future, companies of all sectors and sizes should be able to exchange business documents efficiently electronically and profit from all the advantages of fast and high-volume automated communication.
The technology we have developed fulfils two important requirements for this purpose:
An open architecture in order to be able to meet the ever-changing market requirements by integrating experts.
A network structure that makes it possible to enable other companies to operate our technology as providers.
These prerequisites apply then as they do now. Through experts, we provide comprehensive services with all providers that are efficient and economical. The providers we have acquired in the meantime form a constantly growing and unique network whose participants can communicate with each other particularly easily. In the meantime, we count companies from all sectors and of different company sizes among our participants.
The name of this network is TRAFFIQX®
Today, TRAFFIQX® is one of the most important networks for the electronic exchange of documents and data in Europe. b4 plays a dual role in this network. On the one hand, we act as a provider ourselves and serve our own customers who, as early adopters, work with us to bring new technologies to market maturity. On the other hand, b4 is the supplier of the TRAFFIQX® technology on which the systems of all TRAFFIQX® providers are based. b4 is thus the knowledge carrier and solution provider for all TRAFFIQX® providers.
Sending and receiving transaction documents
Secure - in any format - over any channel - worldwide
The Team
wholeheartedly committed!
The often invoked flat hierarchies are a daily reality at b4. Dynamic teams with a very broad range of experience work together with customers, partners and service providers to improve TRAFFIQX® technology a little every day, to impart knowledge and ultimately to realise a sustainable win-win situation for the sender and recipient of documents. Modern equipment, open spaces and a company structure consistently designed for communication are appreciated by our employees and partners alike.
Our development centre on the German Wine Route and yet close to the metropolises of the Rhine-Main region makes us an attractive employer. We are very proud of our very low staff turnover and good teamwork in a personal atmosphere - as well as our team players who do great work every day.
We simplify complex document processes
Mission
We at b4 are a team with a fair and lively cooperation in a constantly growing innovative network. Simple, competent and fast - that is what we demand of ourselves. Our digital services for document and data exchange can be used immediately in just a few steps. We create value through intelligent, automated and, above all, paper-free document exchange. This benefits companies, people in companies and our environment. With this conviction we work for our international TRAFFIQX® network. We actively shape this functioning and strong community, because it is our guarantee of sustainable and reliable value creation for our customers worldwide.
Vision
"We started out with the clear goal of radically simplifying accounting processes and enabling companies of all sectors and sizes to do everything that had previously been the preserve of large companies and corporations. Nothing less than that."
Our goal is to serve customer document and data exchange needs worldwide with the TRAFFIQX® network based on b4 platform technology. Together with our partners and customers, we are the leading value-added network that supports digital processes - end-to-end and sustainably.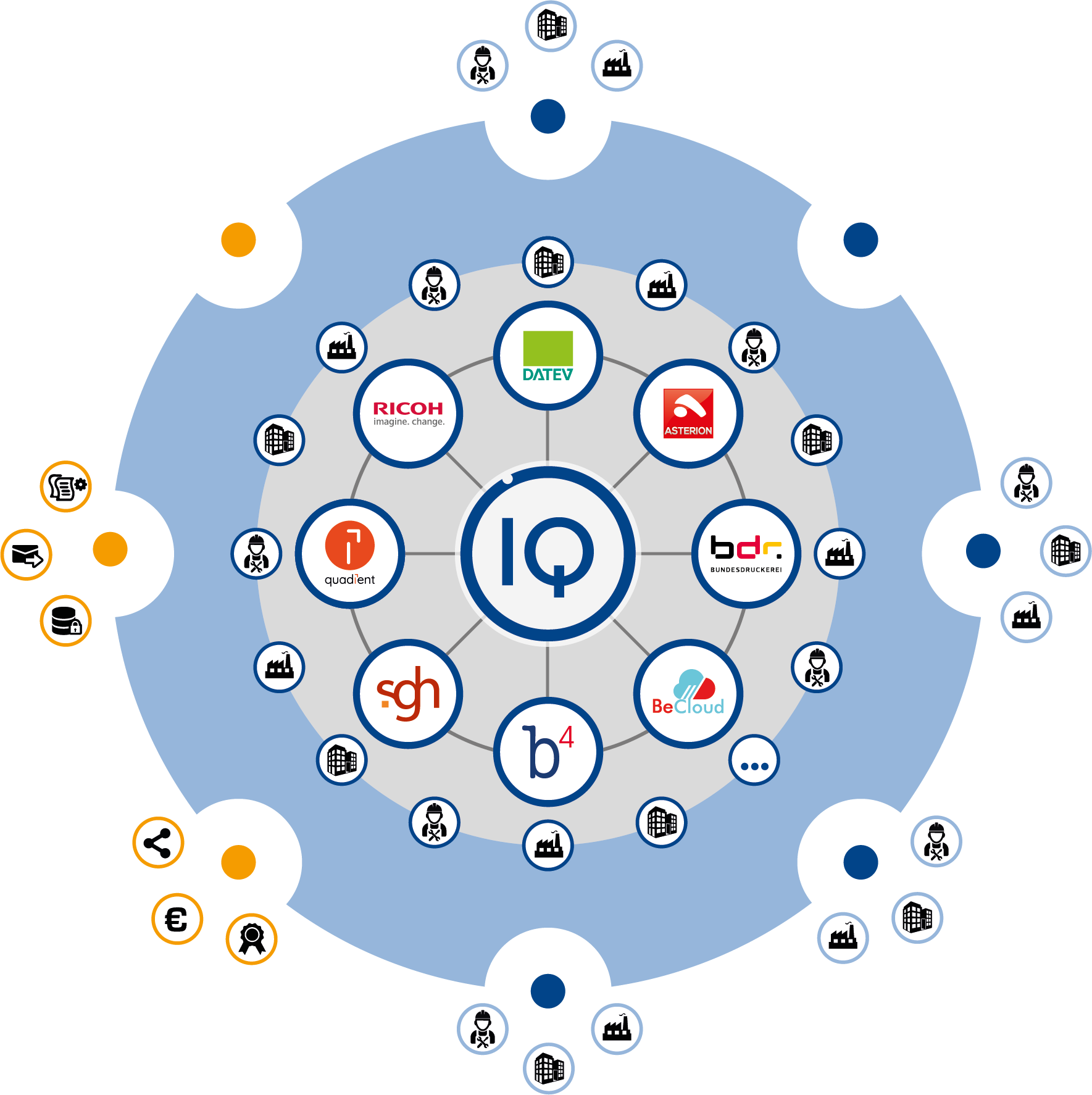 Based on b4 technology, well-known companies operate their own node in a unique network. As providers, they enable companies of all industries and sizes, as well as public authorities and public institutions, to exchange business documents. Without investment, without changing existing ways of working and with the IT infrastructure that is already in place. This network has numerous value added services and interoperability agreements with many common platforms and service providers.
This network is called TRAFFIQX®
This makes an account in the TRAFFIQX® network a central hub for the digitalisation of business processes. Always transparent and always up to date.
Follow and never miss a thing!