We thank you for the cooperation so far!
And we are looking forward to continue with you this year!
Our year 2022
Dear customers and friends of the company b4value.net. We would like to thank you & you for the past year. Also in 2022, together with you, we have increased the share of companies that send, as well as receive, transaction documents electronically, further advancing digitalization. This not only makes work easier and saves money, but also benefits the environment by reducing CO₂ emissions.
Since our founding in 2004, we have been reducing international CO₂ emissions through the technologies we use for digital document and data exchange. How? By reducing the manual production of invoices and credit notes and thus saving long delivery routes. But that's not all. This year we are launching further projects to help offset international CO₂ emissions.
One tree per day!
As we are still in the process of digitizing the document and data exchange of all our customers to 100%, we would like to support this process with projects for CO₂ compensation. Therefore, we have 365 trees planted this year by our partner PLANT-MY-TREE®. This corresponds to one tree per day, freely according to the motto one good deed a day. This will be done within the scope of a first reforestation on our site, in Dudeldorf, Palatinate. (The exact coordinates can be found further down the page). We at b4 see this project as another correct and important step in the direction of CO₂ compensation, as well as environmental and climate protection.
We are proud of this ongoing project. Therefore, we would like to share it with you in the future. Please follow our official Instagram Account and don't miss any updates.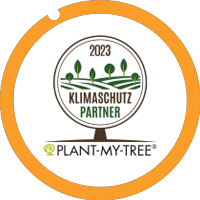 b4 and PLANT-MY-TREE®
Our partners at PLANT-MY-TREE® plant trees throughout Germany to ensure greater sustainability and to leave a livable world for future generations.
If you are interested in sustainability, environmental and climate protection, you are welcome to support PLANT-MY-TREE®. Every tree donation, no matter how small, helps. Tree donations are already possible from one tree.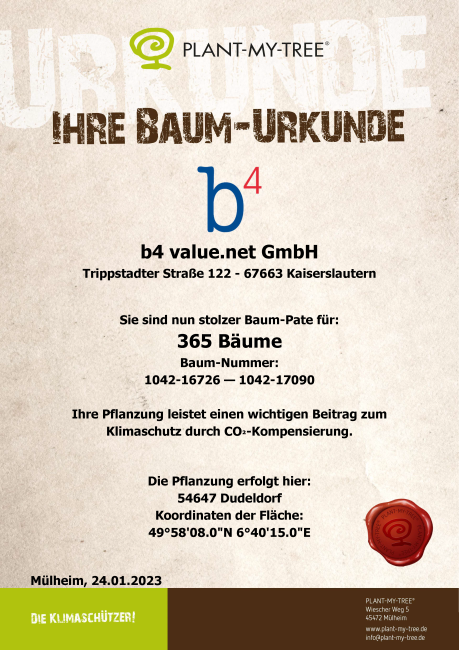 Verfolgen Sie unser Projekt auch weiterhin: